Fantasia Spinning Wheels
The Fantasia is the newest in the Kromski collection. Yes, thoroughly modern in every aspect, but the concept and design are obviously Kromski. What is not obvious is a new style of single-drive flyer design. The whorl is changeable for different speeds; to change bobbins, the front of the flyer simply pulls off—no drive band to deal with. Very fast bobbin change. The flyer also has sliding hooks. And both the flyer and the wheel spin on sealed ball bearings for a truly smooth feel.

The Fantasia is made of European alder and is available in a clear finish with a walnut accent, a walnut finish with a clear finished accent, or unfinished.

Additional specifications:
- wheel diameter - 18"; double treadle
- orifice height - 28"; size - 3/8"
- 3 bobbins; will fit all other Kromski wheels
- single drive with Scotch tension with interchangeable whorls; flyer has sliding hooks—also includes threading hook, attached Lazy Kate, and needle nose bottle of spinning wheel oil; uses an elastic drive band
- Ratios: 5 and 8 to 1. Additional whorls - 10 and 14:1, 18 and 20:1; wheel part is MDF or veneer MDF; available finished or unfinished
- weight - 12.5 lbs.

Please Note: This item will be shipped to your home directly from the manufacturer and will arrive in approx. 1-2 weeks. If you are ordering other items they will be shipped by our standard shipping method and should arrive within our normal shipping time. Sorry, there is no shipping to PO Boxes, AK, HI, U.S. Territories, Canada, or APO/FPO. We are unable to accept cancellations or returns on items shipped directly from the manufacturer.

If you have any difficulty understanding the instructions, assembling the wheel, or having it operate to its fullest potential, please contact Kromski's Customer Service at (229)-859-2001 for more information.
{{ props.errorMessage || props.successMessage }}
80813 - Fantasia Spinning Wheel - Walnut
80814 - Fantasia Spinning Wheel - Clear Finish
80815 - Fantasia Spinning Wheel - Unfinished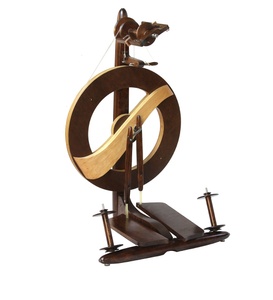 ---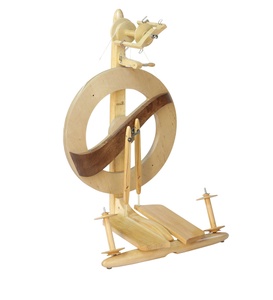 ---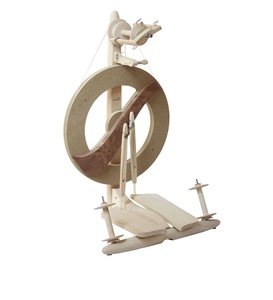 ---