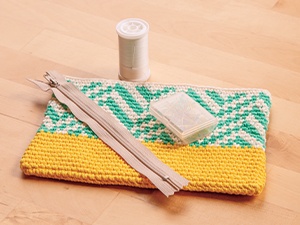 Materials
A finished crocheted pouch
One 8" zipper to match a color in your pouch
Sewing needle and thread
Sewing pins
How to do it
Pin the zipper to one side of your crochet pouch.
Use needle and thread to sew zipper to the first side using back stitch.
Open zipper, and pin the other side of the zipper to the other side of the pouch. Once pinned in place, open and close the zipper a few times to make sure everything is aligning.
Once happy with zipper placement, use needle and thread to sew the zipper to the second side using back stitch.
If you have any lingering fabric ends to your zipper, use needle and thread to tack them on the inside of the pouch.
The Tapestry Zipper Pouch is the perfect little pouch for carrying your crochet hooks and other notions. It fits perfectly inside the WeCrochet Everyday Tote Bag, and it's a great opportunity for learning the art of tapestry crochet. Here are all our tips and tricks for attaching a zipper to your Tapestry Zipper Pouch.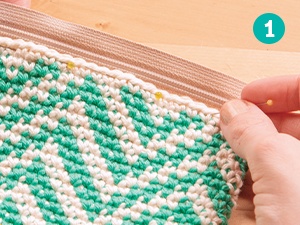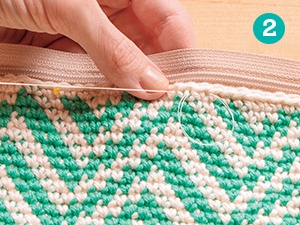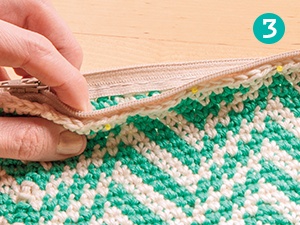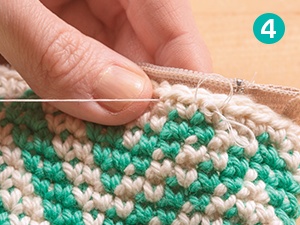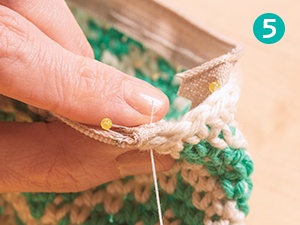 Pro Tips
Never stretch your crochet! If you sew a zipper onto stretched out stitches, the zipper will ripple.
Open and close your zipper throughout the process to make sure everything aligns and that no thread or yarn is getting in the way of the zipper teeth.
Pick a zipper with smaller teeth and pull for this project to avoid the zipper taking over the crochet.
Add a small pom-pom or tassel to the zipper pull for added fun!
Back to Top