Symphony Spinning Wheels
Just the image you would expect a spinning wheel to take. You can picture the "ladies in waiting" gathered together in the castle spinning as a group, all on The Symphony.

This wheel has the details spinners have come to expect with Kromski products - lots of finely turned wood, attention to detail, and all the features spinners ask for. Start with a good size wheel diameter - 24" - that rotates on bearing sleeves that contribute to effortless treadling. The double treadles are well-engineered to be comfortable through long spinning sessions. The flyer is double-drive but also has Scotch tensioning for single-drive use (at no additional charge). The bobbins are large and hold about 50% more yarn than some other popular bands- and they fit on all the other Kromski wheels if you start a collection.

The Symphony is made of European alder and birch. This a perfect wheel for reenactors. This wheel comes boxed as a kit and requires about an hour to assemble.

Additional specifications:
• wheel diameter - 24"
• orifice height - 27"; size - 3/8"
• bobbins: 3 included; will fit all other Kromski wheels; Kromski regular bobbins have yarn capacity that is 50% greater than many other popular wheel bobbins; a plus for any spinner
• also includes threading hook, arch style tensioned Kate, and a bottle of spinning wheel oil
• Ratios: 7.5, 10, 16 and 20 to 1; 2 whorls included
• bearings on wheel shaft and treadle; leather bearings on flyer
• weight - 15 lbs.

Please Note: This item will be shipped to your home directly from the manufacturer and will arrive in approx. 1-2 weeks. If you are ordering other items they will be shipped by our standard shipping method and should arrive within our normal shipping time. Sorry, there is no shipping to PO Boxes, AK, HI, U.S. Territories, Canada, or APO/FPO. We are unable to accept cancellations or returns on items shipped directly from the manufacturer.

If you have any difficulty in understanding the instructions, assembling the wheel, or having it operate to its fullest potential, please contact Kromski's Customer Service at (229)-859-2001 for more information.
{{ props.errorMessage || props.successMessage }}
80804 - Symphony Spinning Wheel - Unfinished
80805 - Symphony Spinning Wheel - Clear Finish
80807 - Symphony Spinning Wheel - Mahogany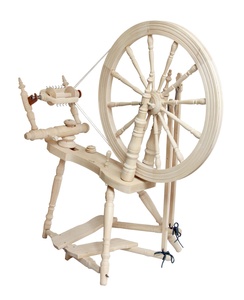 ---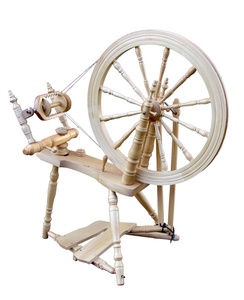 ---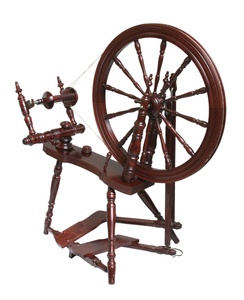 ---